Dear Readers, I would like to thank you for reading this post. I highly value your feedback and would like to know more about my readers. Follow me on
Twitter
Hello to all Syed Balkhi readers. I am one of the loyal readers of this blog and it has greatly influenced my blog.



My name is Satish and I am the owner of Technotip.org, a blog about blogging, SEO, WEB2.0, Traffic strategies etc. We started blogging on 18th June 2008. So its exactly 1 year for Technotip.org. We are not able to celebrate the 1st birthday due to my exams. So I thank Syed Balkhi for giving me this opportunity to share my thoughts about my blog with all you guys. This opportunity is more than just celebration for me..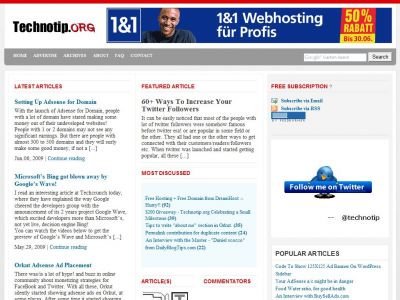 I started Technotip.org with the intention of sharing whatever I had learnt online for the past 2 years. I knew that blogging about blogging and monetizing that niche with Adsense wouldn't yield much money. But my intention was just sharing. So you wouldn't find even paid reviews on our blog.
We do interviews of successful bloggers on our blog, as we believe that learning from those who have already learn't saves a lot of time. That's one of the reasons why I keep reading balkhis.com .
We constantly come up with new traffic generating strategy and most of which receive a lot of traffic!, back links and thumbs up in social media sites.
Recently one of the article 60+ Ways To Increase Your Twitter Followers got huge support from many "A" grade bloggers and most of them voted for it.
And all other things like conducting contests, polls etc will be periodically held on our blog. We also have a "Top 10 Commentators" list on our front page[which has the highest pagerank] to give link juice to people who participate in the conversation.
We have a lot of interesting articles on our blog. We could realize that only when we got back links from sites like labnol, quickonlinetips, techie-buzz etc!
Our aim with Technotip.org is to build a community around the blog. So we will also be starting a forum shortly, after we build a small community around our blog. We are committed to provide value to all our readers and it will be our number 1 priority.
Thanks for Syed Balkhi for providing me the opportunity to talk to you guys. All your feedback are welcomed.
I would like to see all you guys on my blog. Please make sure, you visit the blog atleast today, as its the 1st BirthDay of our blog. If you like our blog, then please make sure that you subscribe to our blog updates.